The ultimate list for breakfast in Canggu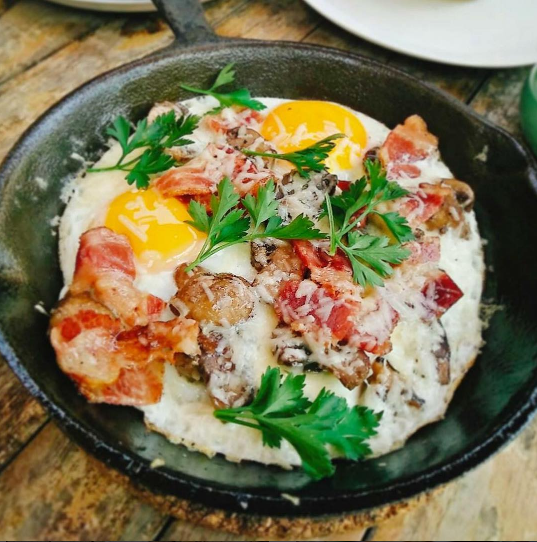 ---
Breakfast in Canggu
A good breakfast fuels you up and gets you ready for the day, are you agree with us? Lately, Canggu is getting busier and busier with cafés or restaurants popping up everywhere to cope with the demand. Here are the ultimate list of some highly recommended restaurants that serves amazing breakfast in Canggu:
The team at Milk & Madu are serving breakfast a step further, yes it's not just your usual breakfast in Canggu. Try their dukkah poached eggs over crispy polenta with watercress and goats cheese. Or perhaps you might like their skillet shakshuka eggs, Israeli caramelized peppers and spices, olive oil and grilled sourdough. As for coffee, they work closely with acclaimed barister, Katie Allen from Revolver, arguably the best coffee in Bali, made from imported 100% Arabica from Colombia, Guatamala and Papua.
Address :
Jl. Raya Pantai Berawa No.52, Tibubeneng, Kuta Utara, Kabupaten Badung, Bali
2. Crate Cafe
"Made of a concrete box with zero frills, Crate cafe is so hip it hurts: this all-day-brekkie spot is the favourite playground of Canggu's young artistic community. The 'in' joke is that you can't get your coffee here if you are not tattooed – and one doodle on the wrist doesn't count! Be prepared for a loud, flashy crowd wearing ripped denim, hats and high boots, and driving custom bikes even if they live a stone's throw away from the cafe. But the coffee – extra-strong, wake-the-dead kind of blend made of Indonesian beans – is worth joining the circus for." – Masha Mozolevskaya via The Honey Combers
Address :
Jalan Pantai Batu Bolong No. 60, Kuta Utara, Badung, Bali
Phone    : 0812-3894-3040
A health food cafe serving happy, nutritious and delicious food. Its also a popular hangout for expats in the area, the cafe is nearby Echo Beach. There's a hippy-chic vibe at this thatched cafe with a mellow open-air dining room upstairs overlooking rice fields. For those who are nostalgic for the days when you had to know where to find those small restaurants that were especially good, this is a place that will take you back in time. They serve Mexican and Greek-style dishes with a great portions for a very decent price. As for drink they have natural energy shots to energize your day!
Address :
Jl. Pantai Batu Bolong No.60, Canggu, Kuta Utara, Kabupaten Badung, Bali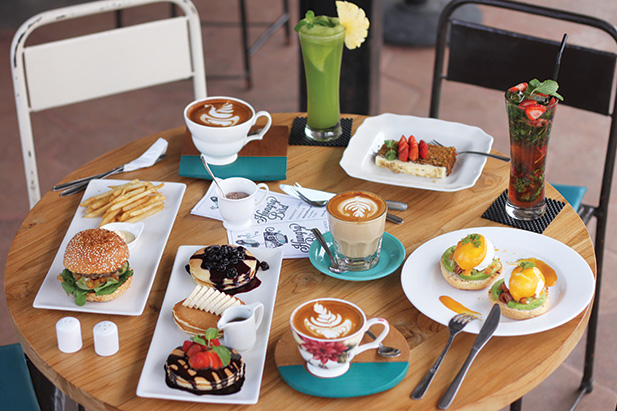 "The venue is decorated in a turquoise and white colour scheme with wooden accents, and combined with the quirky porcelain and wooden cups and plates, the effect is cosy, a little retro, and totally appealing." – inbali
They have a simple menu, affordable prices, and also nice staffs.  In here you can have the best Pancakes for breakfast in Canggu and the best smoothies and great coffee, they are one of the few genuine third-wave coffee roasters in Bali, Hungry Bird does superb single-origin brews.
Address :
Jalan Raya Semat (Jl. Raya Prancak) No.86, Kuta Utara, Bali
Monsieur Spoon is a French Traditional Bakery, it's 
emphasises the best of French culinary and cultural heritage. Their breads and pastries respect traditional French know-how and are made using high quality ingredients by local people under the direction of Rafi Papazian, pastry chef and Founder. This is the place where people come to experience flaky, piping hot croissants straight from the oven alongside the smell of freshly-ground home blend coffee
Address :
Jalan Pantai Batu Bolong no. 55, Bali
A combination of a Vegan Café, Artisan Cycling Store & Open Minded Event Space on Jl Berawa that serves breakfast, lunch and fixed gear bikes. But a vegan restaurant? Well, just give them a try, you will be amazed by it's taste. They are definitely the best vegan breakfast in Canggu!
Address :
Jl. Raya Pantai Berawa No. 46, Kabupaten Badung, Bali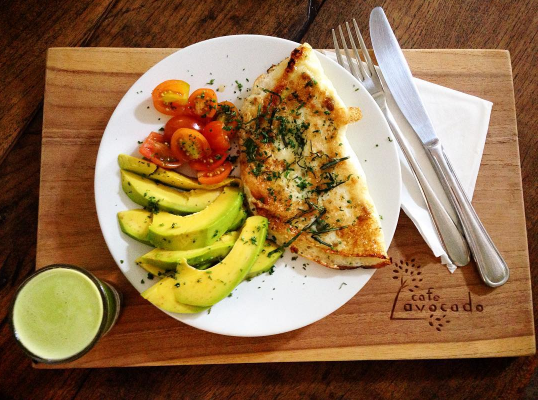 Who says healthy food doesn't taste good? Go visit Avocado Cafe, another healthy cafe in Canggu, part of Motion Fitness. All their food is super fresh and delicious. Vegan, vegetarian or carnivore are all welcome. Either you are looking for raw food or just healthy menu they have it all for you. Avocado Cafe is really the place for a clean food!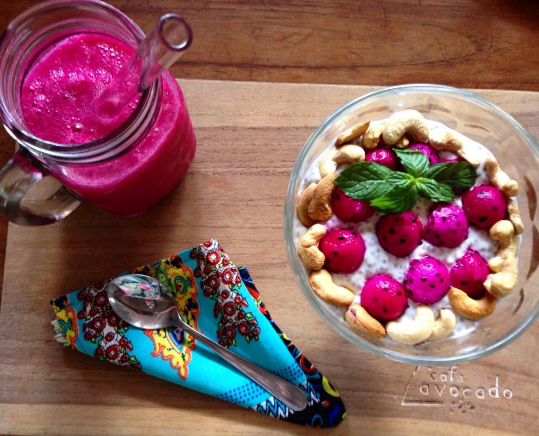 Address :
Jl. Pantai Batu Bolong No.69B, Canggu, Kabupaten Badung, Bali
Set in an airy tiled building with beautiful shabby chic design touches, it makes a great pitstop for breakfast or coffee. This cafe is really for you who are looking for healthy foods. All day, every day they serve up their delicious rustic breakfast. It's full of color, flavour and goodness.  It's never the wrong time for two perfectly poached eggs over crunchy chat potatoes, rosemary butter mushrooms and peppery rocket thrown together with goat cheese and balsamic reduction or perhaps free range poached eggs over crispy sweet corn fritters, chunky avocado salsa, chili jam, sour cream and grilled bacon. Seriously, it's that good.
Address :
Jalan Batu Belig No. 21 A, Kuta Utara, Kabupaten Badung, Bali
This cafe located near Canggu Club, it has big bright windows, with concrete interior, cute lighting, and colorful furniture. You should try their Delicious Philly Cheese Sandwich and awesome Energy Booster Juice. In here you can also try Indonesian street foods.
Address :
Jl. Subak Sari No.3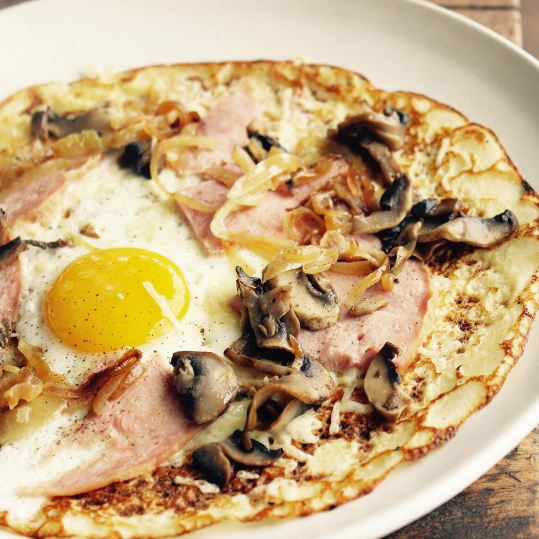 A lovely little subdued French restaurant serving delicious food with the very Parisian ambiance and touch of nice soft pastel colors in the middle of rice field. For breakfast, these are the must-order dish: French Rolled Omelettes and Grand-Ma' Savoury Breakfast Crepes. It's hard to move on from their crepes, they have 2 variant savoury or sweet at very affordable price.
Address :
Jalan Raya Batu Bolong, Kabupaten Badung, Bali
One of the new spot to have drinks and eat in Canggu. Macan Cafe is beautifully decorated with contemporary design. Good for a big and excellent breakfast in Canggu, from usual breakfast dish, Pitaya Bowl to Coconut Milk Pancake.
Address :
Jl. Pantai Berawa No.14B
Phone    : 0812-3800-9970
Share with us your favorite spot for breakfast in Canggu!
---